5 Strategies you can start using today
You have no excuse now. Use these basic marketing strategies to build your plan. Jot down your ideas. Make your plan simple and to the point. Include something you can do now that will help build your future.
The five marketing concepts that guide me the most when developing marketing strategies include:
Inbound Marketing
Content Marketing
Permission Marketing
Relationship Marketing
Target Marketing
1 Inbound Marketing
Inbound marketing places you where your customers expect you to be. The four other strategies support inbound marketing.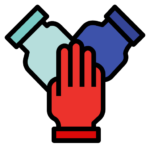 Where are your customers?
If your customers expect to find you when they visit a strip mall, then that's where you would be. You would make sure:
Your storefront is in order and attracts people into your store;
Your merchandise is displayed for easy access and purchasing; and
Your staff is trained to engage and build a loyal customer base.
The same goes with your online presence — and the number one place people expect to find your business is online. Today without a website, you do not exist.
Inbound marketing strategy focuses on attracting your customers with your message by:
Designing websites to search engine standards so people can find you;
Providing original content that site visitors value; and
Engaging customers to trust in you and your passion which builds your online community or "tribe."
HubSpot has been my go-to site for training me on Social Media. My daughter received her Inbound Marketing Certification from HubSpot University. Their comparison chart from my original post on this subject in 2012 continues to be a great visual comparing inbound with traditional, outbound marketing.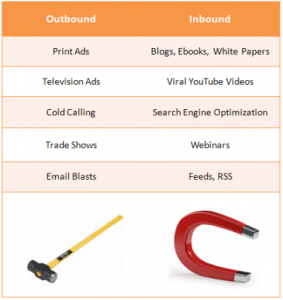 You can find good explanations of Inbound Marketing by searching in your browser. This HubSpot article integrates their services so they kept it easy to understand. Check out their 2019 version at What is Inbound Marketing?
This graphic comes from that article and I found it helpful also.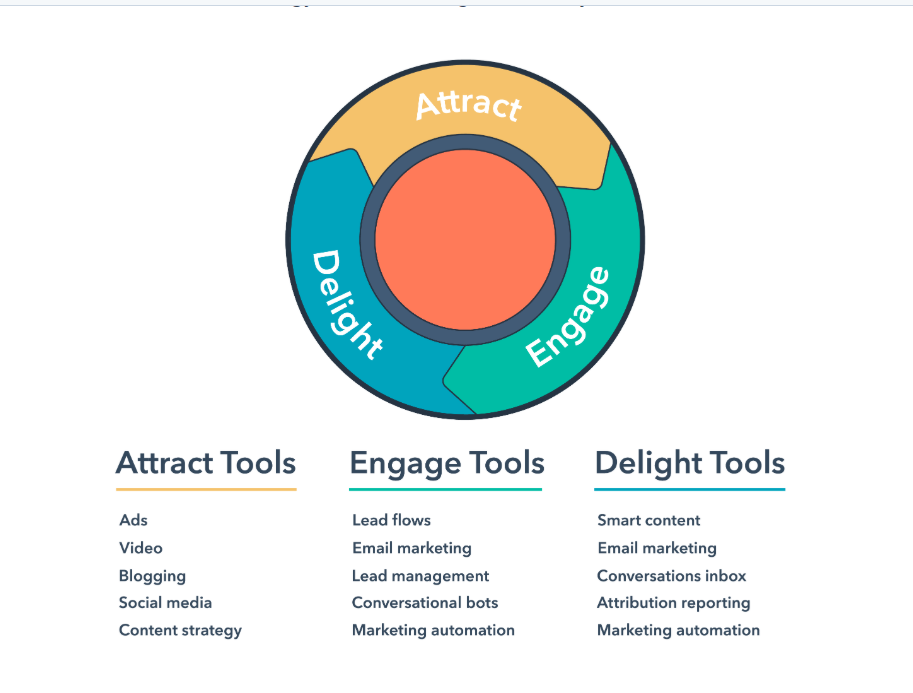 Graphic explanation with table from HubSpot's What is Inbound Marketing?
Traditional Marketing
Outbound marketing, also known as traditional marketing, can factor in when customers expect to find you in a store front as mentioned above. They also may expect to hear you on the radio, or find you advertising in a lifestyle magazine. Today demands you show up where your customers are already present.
Social Media
Reliance upon inbound marketing skyrocketed because of social media and instant communications. People no longer went to the newspapers or TV for their news, they came to rely upon social media and the internet.
These numbers demonstrate that social media is impacting our lives. Would you feel lost without it? I know I've come to rely upon the various social media channels.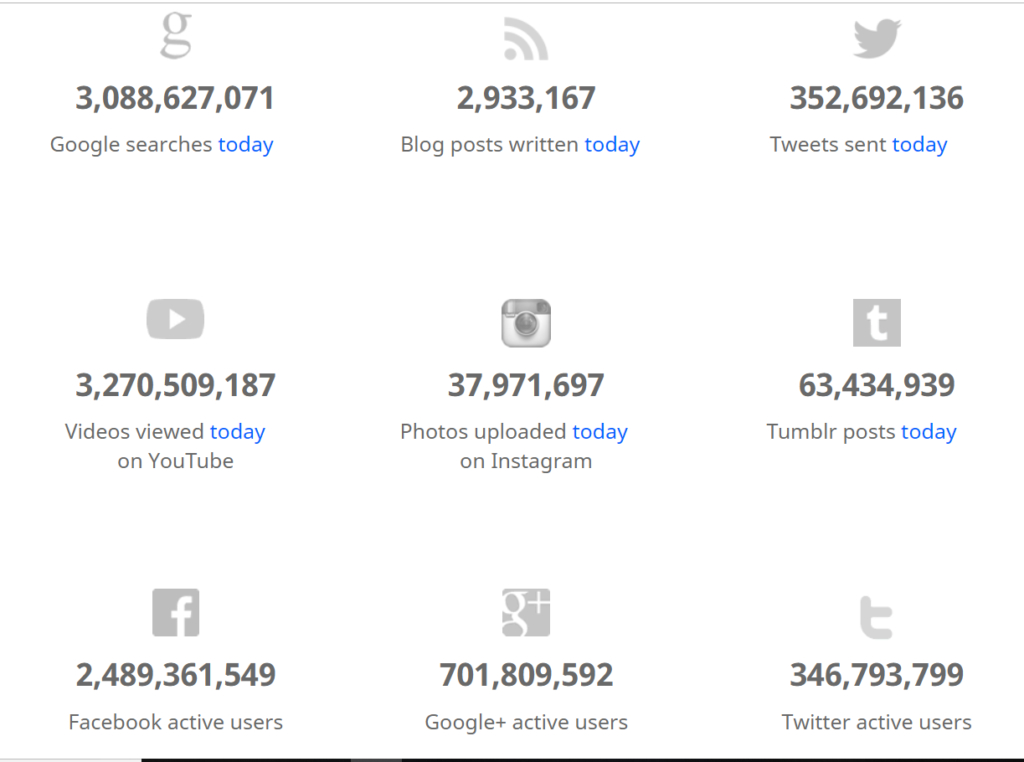 2 Content Marketing
Your content is critical for your inbound marketing success — and you can't fake passion so stick with something you know.

1996 Way Back Machine

"Content is where I expect much of the real money will be made on the Internet, just as it was in broadcasting."

Microsoft Founder Bill Gates
Content is King


2012 Search Engine Watch
"It is more important than ever to write from your own experience, on topics on which you have first-hand knowledge, in order to create something not only original in sentence structure or word choice, but in essence."

Formerly Google "Spam Czar" Matt Cutts
Talks Infographics, Differentiation & More SEO Topics


2018 Forbes
"Content marketing has taken over because it's so useful to every function of marketing teams today. Content is one of the best tools you have for earning trust, building your brand, generating site traffic and qualified leads, and everything in between. Content marketing is marketing, and the brands that understand content is core to effective marketing — and, ultimately, to their entire business — will set themselves up for success."

Writer and Forbes Contributor John Hall
5 content marketing trends to watch in 2019


Content is King
I use these quotes to emphasize that content was, is, and always will be –king.
That's why becoming better at communicating with people will increase your success in your career. We are already seeing artificial intelligent computers take over more white color tasks like robotics took over blue color of the last century. Your ability to problem solve and communicate clearly will be instrumental in helping your customers to become loyal customers. Bots may be able to deliver static information; however, people need people to be a part of a community of loyal customers.
You can check out my rules for How to communicate better. I keep it current when we discover new information or trends.
Be a thought leader.
Choose an area where you can distinguish yourself as a thought leader. Focus on the most interesting or profitable side of your business and become a "SME" (pronounced "smeee") — subject matter expert.
The best content offers your original thoughts in an entertaining way. You can offer your content by blogging on your website, posting on social media platforms, or distributing your stories through emails, eMagazines, or eBooks. Photos, videos, and graphics all add to the written word. Vary your delivery.
Always remember to comment on other people's posts. This is especially true when you have something to contribute of interest to their audience AND compliments the author.
It used to be critical to post often – almost every day. Today, however, people just want you to be consistent in quality, provide topics of their interests, and engage with them. You want to especially be responsive when they initiate the engagement.
3 Permission Marketing
To be successful, inbound marketing requires your customers to want your content, product, or service. Today your customers and potential customers give you permission to keep them informed with your latest offerings. If you earn their trust, they will let you keep sending them content or follow you on social media.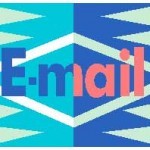 Ask for Permission
You may want to offer incentives to entice people to "opt in" to your eNewsletters and to accept push notifications. Remember to always offer an easy "opt out" process. Many people will return when they cannot find a "you" and your content anywhere else.
The Can-Spam Act of 2003 clarified requirements for permission marketing and emails. You can refer to it or just follow the Golden Rule —
Treat others they way you want to be treated.
The most successful incentives usually focus on alleviating one "pain point." The most popular incentive today is wrapped up in a webinar. Video is fast becoming the medium of choice. Remember, you also have people who learn through reading, so be sure to offer a written transcript or summary.
Your incentive can also be check lists, ebooks, challenges, group memberships, templates, and training videos. It just needs to be something of importance to your audience and most importantly, to your paying customers and potential customers. We always recommend you provide something of value that would naturally evolve into your paid services and products.
I think you might be the same as me. When I do decided to check out a person or company through their incentive, I expect to be satisfied with the offer. Remember to go through the entire 5-step process:
Focus on one pain point.
Help me solve it.
Let me feel good about it.
Engage with me and make me feel special.
Then do a soft sell to get me to purchase the full product or services.
I find that over half of the incentives take you through steps one and two, then jump to step 5 with a hard sell. I become loyal and actually help promote people who have taken me through the 5-steps.
One of the best followers of the 5-step process that I have found is Natalie Ledwell and MindMovies. I believe I first took her quiz on Facebook, downloaded the free visualization videos, devoured reviews, and then enrolled in her mastermind class — all the while being asked to join the class. She made it my decision. Her mastermind class continues through live call-ins and a monthly online magazine full of interviews and downloads with additional free and paid offers. I have met other students by attending motivational speaker Mary Morrissey's Dream Builder Workshops offered for free to Ledwell's students.
4 Relationship Marketing
Social networking sites are all about building relationships and developing trust with customers; critical to effective inbound marketing efforts.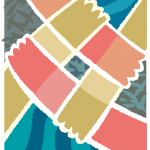 2019 Change This
"You build customer loyalty when the people in your organization show empathy for customers, take responsibility for helping them reach their real goals, and treat them generously."

Franklin Covey authors Sandy Rogers, Leena Rinne, and Shawn Moon
Leading Loyalty: Cracking the Code to Customer Devotion

Building Relationships
Take time to generate mutual respect relationships between you and your followers. Develop a human voice when you engage. Schedule time out for 30 minutes a day to check any reactions to your posts.
When people direct message (DM) you or comment on your products and services, strike up a conversation – even to say, "thank you."  Make the conversations two-way so the customer will talk back to you. Conduct live call ins, interviews, and other ways for groups of people to interact with you. In addition to Facebook Live; LinkedIn is now offering video streaming. You can check out this TechCrunch article LinkedIn debuts LinkedIn Live, a new live video broadcast service. HubSpot offers How to Use Facebook Live: The Ultimate Guide online that you can reference for free..
Remember to keep it simple and personal on a business level. Building relations with your customers is a key piece in moving from the traditional one-way to two-way communicating with inbound marketing.
Be real; integrity is everything. Have fun; enjoy meeting new people. Learn everything you can about your customers; keep an open dialogue with them.
5 Target Marketing
Defining your customer base helps you to narrow down your business and promotional strategies. It helps you make decisions on spending time cultivating customers who help you be profitable. Somewhere I read that organizations could let 70% of their customers go to be more successful. When you try to please everyone, that's probably a true statement.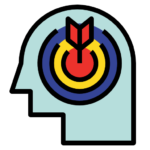 Your loyal customers
Who are they? Write out your ideal customer. Build the demographic details from your current customer base. Who can you help and who helps you succeed?
Creating personas for the types of customers you want – and even the customers you do not want – can help define your target market. If you want loyal customers, you need to be engaging with the right customer. Personas are fictional people with enough detail for you to be able to focus in on their demographic type.
Again, HubSpot has a blog post about building personas for your business at How to Create Detailed Buyer Personas for Your Business. It offers a good guide. Social Media Today's How to Create a Buyer Persona for Your Business [Infographic] can also help you.
Media and Civic organizations
Cultivating news media relationships in person and online can improve your odds of gaining free press. Industry organizations, tourism bureaus, civic organizations, and chambers of commerce provide other target groups for your product/services. Personal support of these groups in your communities is a good business practice. Most often organizations help promote their members – especially chambers.
Working as one
Integrating these five marketing concepts into one, inbound marketing strategy will help you succeed where others fail. It's a serious game we play to rise above the noise of instant communication and network ourselves with the right people at the right time.
Your challenge
If you do not have a strategy yet, set aside an hour and come up with your marketing plan using these five strategies. Keep it simple. Make it happen. Change as things change. Be sure you can accomplish your goals. Grandiose goals are fine for the long term — short term goals will get you there.
Take care and happing strategizing,
Jan
P.S. No endorsements to buy anything is intended, and no one is paying me to link to them. I'm just sharing with you quality content I have found.