In 2015 my good friend Marya O'Malley (https://www.maryaomalley.com/) had written her first self-help book. Marya told me about her book when we met up that following May on a friends' retreat to Ojo Caliente Mineral Springs in New Mexico. (Wonderful place, check it out at http://ojospa.com/)  She had editors help her fine-tune her message, yet she felt something was missing. I offered to help as I believed I would enjoy serving authors as a book editor when I retired. Marya accepted my help and published her book in October of 2016.  You Are Simply Divine: Simple Spiritual Practices for Divine Connectivity is the result. You can find it on Amazon at http://amzn.to/2HvsLQ8.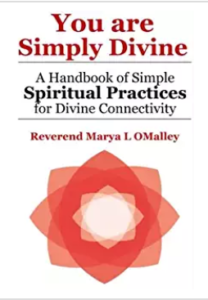 After that, I was hooked.
With my retirement, I have started the career I have dreamed about since 2012 – book editing. My background steers me towards non-fiction. I am willing to try novellas to see if my skills would work for authors of fiction. My former career had me translating concepts into everyday language for audiences to understand. Some concepts were highly technical while others were how-to articles or promotional pieces.
My college degree helped me to understand graphic design and colour theory which I have utilized in every position I held since then. I learned to adapt form and layout from print to digital during my masters' program. It came in handy while working with Marya O'Malley in 2016 on her book — You Are Simply Divine: Simple Spiritual Practices for Divine Connectivity. You can find it on Amazon at http://amzn.to/2HvsLQ8.
I await my next book editing job. Meanwhile, I'm still writing ad copy, describing properties, developing presentations and speeches, editing resumes, and ghostwriting when I can. I am also reading up on editing to hon my skills to better meet an author's needs. I have found there are many different levels of editing jobs. I'm still discovering where my skills fit into the mix.
We've about figured that I am the last editor of a book. In helping the author, my goal is for readers to feel good that they invested their time and money into the author's book.
I'm the editor that
makes sure all the parts fall into the rhythm of the book both verbally and visually;
moves words, sentences, paragraphs, and even chapters to ensure the message flows logically for the reader;
adds descriptive anchors and connecting phrases needed for the reader to better understand the story;
removes unnecessary words and passages;
formats the layout and adds the artwork making the book easy to

read in print and digital,
scan when the time is of the essence, and
listen to the audio version.
As I travel on this new career path, I will share what I have learned. There is much to learn so I should have much to share.
I want to leave you with a quote I read today in the following article from PEW Research.
http://www.pewinternet.org/2017/05/03/the-future-of-jobs-and-jobs-training/?utm_content=buffera9954&utm_medium=social&utm_source=linkedin.com&utm_campaign=buffer
"… the best education programs will teach people how to be lifelong learners."

Here's to life long learning!

Jan